Lourdes Public Library
Location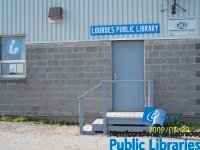 Latitude: 48.647209
Longitude: -58.9988741
Directions
The library is located in the Lourdes Elementary School which is directly off the main road.
Lourdes Public Library is situated near Our Lady of Lourdes Grotto.
Contact
Sabrina Rowsell
Librarian


Phone: (709) 642-5388
P.O. Box129
82 Main Street
Lourdes, NL
A0N 1R0
Curbside Pickup Hours
Before going to the library to pickup your materials, please check the status of curbside pickup service. Our location may be offering, curb side pickup by appointment only. If the service status is by appointment only, please call the library to schedule your pickup.
Session 1
Session 2
Service Status
Monday
3:15 PM - 6:45 PM
Available
Tuesday
3:15 PM - 6:45 PM
Available
Wednesday
3:15 PM - 6:45 PM
Available
Thursday
3:15 PM - 6:45 PM
Available
Friday
3:15 PM - 6:45 PM
Available
Saturday
Sunday
Services
Free Internet Access
Free Wireless Internet Access
Fax *
Printing *
Photocopying *
Document and Picture Scanning
Inter-Library Loans
Audio Books
DVDs & Videos
Large Print Books
Magazines
Photocopying *
Story Time
Scan to Email
Services marked with * indicates a small fee for service.